Welcome To
#1 Lawn Sprinkler system company 
Your neighborhood sprinkler system professionals
Design-Installation-Repair
Fill The Form Below And The First Westminster Sprinkler System Repair Represntative Will Be In Touch
Serving Denver And
It's Surrounding Areas
With the Colorado heat and the dry environment, your beautiful garden and favorite plants and trees need proper irrigation to survive. If your sprinkler system is not working, call us. We offer superior sprinkler repair throughout the Denver Metro Area to keep your system running smoothly all year round.
Benefits Of a Sprinkler System
Our Sprinkler Systems keep lawns beautiful, healthy and hydrated.
Certified Professionals
Our certified irrigation experts know the needs of your lawn. Over time, the benefits of a Sprinkler System outweigh the initial cost. Our sprinkler systems save you time and money while keeping your garden lush green. As a professional sprinkler service company, you can rest assured that your new Sprinkler System will be properly designed and installed by the best professionals.
Value For Money
A professionally installed Sprinkler System is one of the best investments an owner can make. A green lawn and complete sprinkler system are a cost-effective way to enhance the appeal of your home's sidewalk while adding market value and value to your property. With less water wastage, we also help you reduce water bills.
Hassle Free
Our Sprinkler Systems are easy to manage.
With our easy-to-manage Sprinkler Systems, you can spend more time outdoors doing what you love. Everything we do is done internally. Smart features such as stopping rain and detecting moisture prevent excessive watering and underwatering.
Visible Results
Our team of lawn experts and certified irrigation specialists know what it takes to keep your lawn healthy. We believe that we need to go above and beyond to ensure that your system provides the right amount of water at the right time for optimal results all year round.
When you are looking for sprinkler repair service anywhere along the Denver Metro Area know that Westminster Sprinkler System Repair is one of the top rated sprinkler repair companies in the area. We service the entire front range.
Regular or routine maintenance on your sprinkler system is the key to keeping those costs down. Not only are you saving money on larger sprinkler costs, but you are saving money from wasted water, or damaged landscaping.
We offer FREE Estimates
We are experts in the design in installation of your lawn sprinker systems. Choose a company that offers the best sprinker installation services around in order to save time and money.
In addition having a profession install your sprinklers will ensure the best coverage for your landscaping and prevent water from being wasted by watering hardscapes and other area that do not require water.
We set up you entire irrigation system. Program the timers, set up the rain savers, so that the system does not water when Colorado just received the gift of rain. We can even put in smart timers so that you can control your sprinkler systems from your smart phone or computers.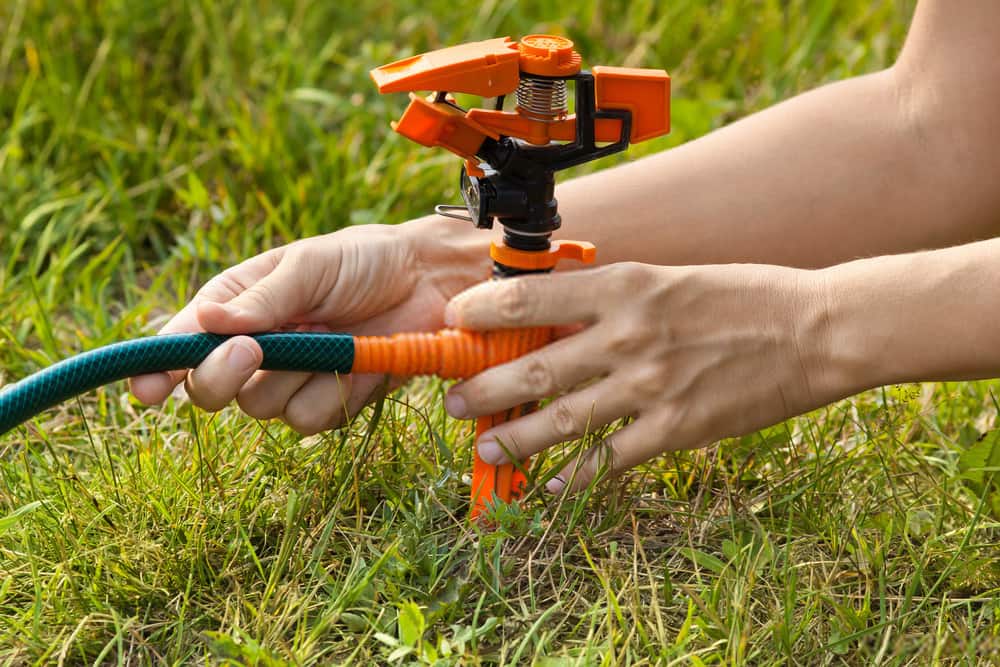 So you walked outside to see a gusher in the middle of your yard…what do you do? You can dig it up and try to troubleshoot it yourself, however if that isn't what you want to spend your beautiful Saturday on, give us a call. We are a professional company and can come diagnose, and repair your broken line, broken head, broken valves, timers, or whatever else the issue is. We offer quick, reliable, and affordable sprinkler maintenance whenever something goes wrong with your irrigation system.
By keeping up with the maintenance of your sprinklers you will ensure that your lawn, garden and trees are getting the water they require to keep them healthy and beautiful throughout the entire season.
If you just moved into a brand new home and there is not existing landscape, or you are just looking to change up your current landscape design, we can help with the sprinkler system design.
What is sprinkler system design? Simple it is the layout of all of the irrigation needs of your property. Weather you are going to be laying sod for a beautiful lush green lawn, or planting a garden and need some drip type system to put just the correct amount of water onto your plants, shrubs, or vegitable garden, we can help.
Use our professionals to help you design the perfect watering system for your application, the money you spend now will pay dividends later in less wasted water, ensuring the right amount of water is delivered to the correct areas of your yard, and worst case scenario the cost of time, money, and effort to have your irrigation system redone later.
Westminster Sprinkler System Repair will help set up your irrigation system in the early spring. We come out and turn on your water and ensure that there is no leaks due to damage lines, sprinkler heads, valves or anything else that may have froze during the cold Colorado winter months.
After we turn on the water and ensure your entrie system is sealed, holds pressure and is not leaking we will set up all of your sprinkler zones. We ensure all the heads are delivering the proper amount of water, and that they are pointing in the correct direction.
We will finally program all of your zones so that your system is primed to water your landscape as efficiently and economically to ensure beautiful yards, and fruitful gardens as well as healthy trees.
Your sprinkler system is a delicate system that we need to ensure our lawns, trees, and gardens are healthy. Let's face it, a sprinkler system saves us the hassle of having to hand water, and we can set it and forget it and it takes care of that tedious task of watering.
At the end of the season when Colorado fall weather returns in early to mid October we need to take care of irrigation systems. The weather will soon turn to freezing and if we don't get the water out of our sprinkler lines, they will freeze and break an wehn we go to turn our system back on, we will have a lot of work to do to get them repaired. We specialize in turning off the water to your sprinkler system, and safely and efficiently "blowing-out" the water from all of your lines. By removing this water and winterizing your sprinkler system each year, you will ensure that your system will be ready to go when the weather turns nice again, and the grass is ready to start turning green!
"We install innovative Sprinkler Systems and provide intelligent outdoor solutions"
Maintaining a Beautiful Yard
Westminster Sprinkler System Repair is a one-stop sprinkler service company specializing in residential and commercial Sprinkler Systems. We offer effective and affordable sprinkler services and solutions.
Get honest, reliable and professional sprinkler services in Westminster, CO.
Call (720) 571-0622 and let the professionals manage your sprinkler today.
If you're tired of spending hours watering your lawn manually and the endless hassle you face every day, a modern irrigation facility – sprinkler system might be your best solution.
We offer installation services for all types of lawn sprinklers. Our highly experienced technicians will make the installation process of any type of lawn irrigation very easy for you.
We actively respond to all our requests for sprinkler repair service throughout the city. At the same time, we deliver an exceptional lawn watering facility with affordable service charges and guaranteed satisfaction.
Our full range of sprinkler system design services offers customers well-maintained and exceptional properties that they can enjoy all year round.
With our years of expertise, we are able to offer you a variety of sprinkler services. From sprinkler design and installation to regular maintenance and emergency repairs, we serve all. We understand the importance of a top-quality sprinkler system and its maintenance.
We use Westminster Sprinkler System Repair every year at the beginning of the season. They turn our water back on, run the system, and ensure that our sprinklers are running efficiently and effectively. It sets us up to have a beautiful lawn each year.
I turned our sprinkler system on and had an absolute geyser spraying from my sprinkler lines. I called and they were out very quickly, assessed the situation and fixed our system at a very reasonable cost.
At the end of the season they come out and blow out our system, and ensure the water is off. We never have to worry about broken lines or sprinkler heads when the weather warms back up and we are ready to turn back on the system!
Address
9158 Flower Court Westminster CO 80021
Hours
Monday To Saturday - 8am To 6pm